My Visit to Manchester United's Stadium: What amazed me the most
Manchester United are the most popular football club in the UK, and they even have a special place in the heart of my family. My father was born in Manchester, and he grew up watching this amazing team play, so as I have decided to write an article about their stadium I know I have to talk about my visit as well because what amazed me most was how much it felt like being back home! Here's my story.
Seeing The Museum
Visiting The Museum at Old Trafford stadium, I couldn't help but marvel at some of football's greatest moments displayed in front of my eyes. A look down into football's past is a fascinating experience and one that I would highly recommend any soccer fan take part in. There is such rich history behind even just one club, let alone an entire sport. It was really interesting learning about where it all began and how far it has come since then. It was also great seeing some of their trophies on display, as well as jerseys from their star players. The museum tour itself was very informative and allowed you to see parts of the stadium you wouldn't normally get to see otherwise. I had a great time on my visit to Manchester United's museum!
The Entry Gates
The first thing I noticed when I entered Old Trafford was that stadium's gates. The main gates of Old Trafford Football Club are called The Sir Alex Ferguson Gates. The club gates were designed in honor of their legendary former manager, Sir Alex Ferguson. He managed them for 26 years and brought multiple success and trophies during his tenure with his club; he is still considered one of the best football managers ever in terms of performance and honors.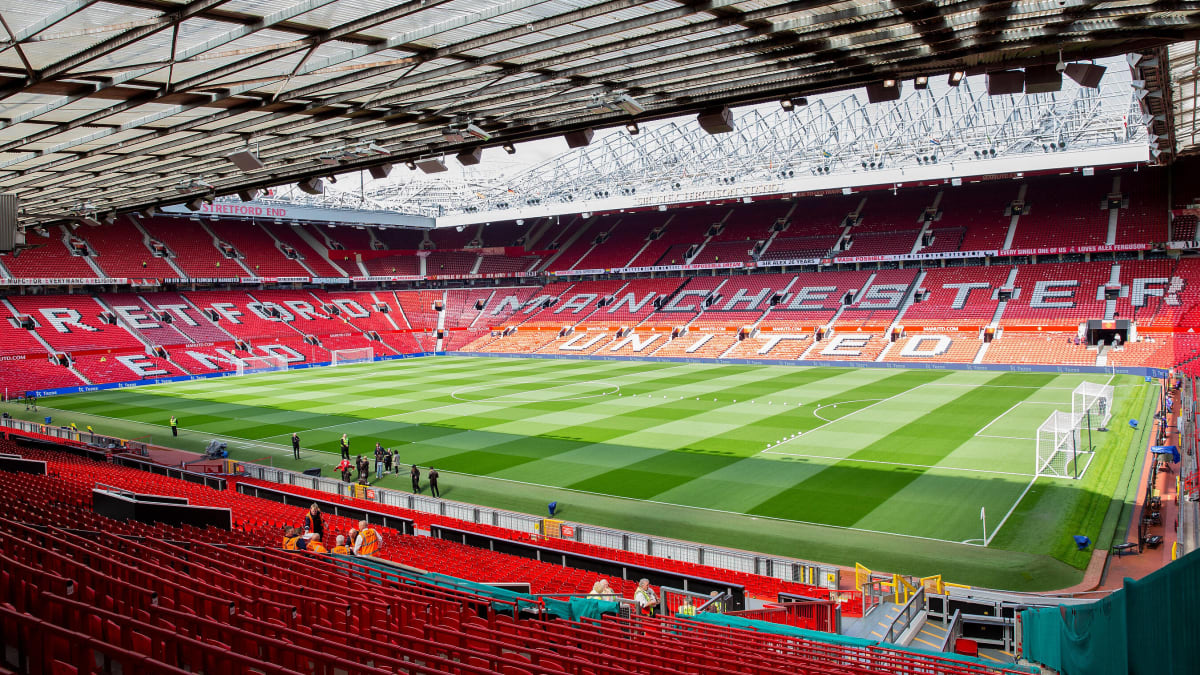 The view of the Stadium from Inside
After walking down a long walkway, filled with pictures of legendary players who once wore jerseys, I finally entered through one of those iconic red doors that are painted with famous players and coaches. But even before that, I was stopped by two security guards who asked for my ticket. Even though they were very polite and friendly, it was still a weird feeling because I've never really been in such close proximity to a person who had worked for a large company before. It made me feel like I was on an episode of Undercover Boss. However, after I showed them my ticket and walked past them into what seemed like an empty hallway, it opened up into a massive area where hundreds of people were sitting at tables or standing around talking while other people were making their way toward another section.
The Pizzas
The only thing that's better than a home-cooked meal is one you share with family and friends. So when we bought out of town at halftime, heading over to a local pizza shop was exactly what we needed. With stadium staff providing directions, it was easy for us to get where we wanted on time, and within a few minutes of sitting down with our piping hot pies, I could tell we had made another good decision. Our pizzas were delicious! We even got to watch some of the second half while enjoying them. It wasn't long before we were back in our seats, cheering on Man U as they continued their impressive comeback. Overall, my visit to Old Trafford was an experience I won't soon forget—and neither will my taste buds!
The Players' Tunnel
One of my favorite parts of visiting Old Trafford was walking down the famous players' tunnel. The tunnel is one way that players and coaches connect with fans, so it's no surprise that there is an entry for both teams along its length. There are also a few television cameras on either side, which are used during televised matches. I think it's awesome that everyone can see right into their home stadium from the outside! If you visit Old Trafford (and you should), make sure you take a look at all four sides of the stadium!